Shabbat Morning Torah Study
Saturdays, 9:15 AM
Temple Beth Am K'hilah Lounge
Temple Beth Am's popular weekly Torah Study is a start-to-finish approach to the text: instead of focusing on the weekly portion, we will continue our exploration of the Torah as we work our way each week through the entire text. It may take a few years because it will include commentary (after five years, we've finally made it through Exodus!), lively discussion, and a chance to go deeper. You are invited, whatever your skill set, to join us at any time and be a part of reading the whole Torah.
Begins October 2019 / Ends Spring 2021
Our next Adult B'nai Mitzvah cohort at Temple Beth Am will begin in October 2019. The tradition teaches that one can come to Torah as a Bar or Bat Mitzvah at any age. This class presents an opportunity to explore Jewish spirituality, wisdom, and community in a beautiful, nurturing, and supportive way.
This class is open to members who have not celebrated becoming Bar/Bat Mitzvah and for those who feel that, even if they experience one in their childhood, they would benefit from renewing their studies. The Judaic Studies class will focus on the theology of the siddur, ritual engagement, and general Jewish knowledge. The class will mirror what our youth do in their B'nai Mitzvah preparation: regular Shabbat service attendance, a tikkun olam project, and specific readings. We culminate this process in a beautiful Bar/Bat Mitzvah ceremony in the Spring of 2021. The entire course process is a two-year commitment.
Students are required to attend the following classes:
Adult B'nai Mitzvah Orientation / check back for dates
Adult B'nai Mitzvah Beginning Hebrew / check back for dates and times
Intermediate Hebrew is encouraged as an additional course (not included in course fees)
Judaic Class is taught by Rabbi Ruth A. Zlotnick / check back for dates
Cost: $600 including textbooks, Hebrew class, Judaic studies, and service preparation
For more information, contact Executive Assistant Sara Bernson (206-525-0915). Scholarships are available.
Once a month on Sundays. For a schedule of dates and times, please contact our office at 206-525-0915.
Beatrice Lawrence, Professor of Theology and Religious Studies at Seattle University, will lead this dynamic study session, using The Torah: a Women's Commentary as a guide for discussion. The Torah portion for the week will serve as a spring board for broader conversation around gender and Jewish text. Everyone is welcome, regardless of your Torah background.
Please email Executive Assistant Sara Bernson or call her at 206-525-0915 to put your name on the monthly reminder list for Women's Torah Study.
Once a month on Wednesdays at K&L Gates. For a schedule of dates and times, please contact our office at 206-525-0915.
This year, these interactive discussions will follow our learning theme: Ma'asei V'reisheet (Acts of Creation). Creativity in all areas: this year, inspired by our annual learning theme, we will study creativity and innovation and how it appears in so many areas of the Jewish world. You don't have to work downtown to attend; just bring your own lunch and enjoy a dynamic hour of learning together.
Held at the law offices of K&L Gates: 925 4th Ave. (4th & Madison Building in downtown Seattle), Suite 2900, Conference Room 10.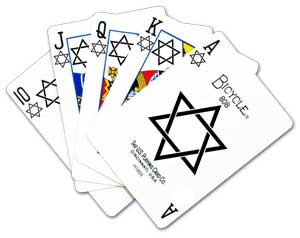 Once a month on Wednesdays at Temple Beth Am. For a schedule of dates and times, please contact our office at 206-525-0915.
Learn a little Torah with Rabbi Jason R. Levine, enjoy each other's company, and play a friendly game of poker at temple. Winner takes all in this fun tournament. $20 buy-in. Snacks provided.
Quarterly Torah Study at Aljoya Thornton Place
On Tuesdays in January, March, and May at Aljoya Thornton Place. For a schedule of dates and times, please contact our office at 206-525-0915.
A special opportunity for Seniors to join with Rabbi Ruth A. Zlotnick for a Torah discussion at Aljoya Thornton Place in the Northgate neighborhood. Coffee and cookies provided; come prepared to enjoy this hour of learning. Torah Study at Aljoya is open to everyone – please sign in at the front desk if you are not a resident and join us in the Fireside Lounge.
Please visit this page again for continual updates. Contact our Executive Assistant Sara Bernson to get regular email reminders or Director of Community Engagement Alexis Kort with any questions.
Further information on Torah study, including this week's Torah portion, can be found at ReformJudaism.org.
Sun, March 24 2019
17 Adar II 5779
Sun, March 24 2019 17 Adar II 5779